Why SkyBoy becomes The Overlap Factory?
Changing a name is a significant step in a company's evolution. SkyBoy, known for establishing the Overlap Reality® in the immersive tech landscape, has long been synonymous with creative, human innovation in augmented reality. By renaming to The Overlap Factory, it honors this cutting-edge technology that has built its reputation.
But this change goes beyond mere rebranding; it signifies a profound transformation and an expansion of our horizon to new sectors and geographies.
The Overlap Factory
a global ambition:
As The Overlap Factory, we aim to extend our expertise across all economic sectors and reach a global audience. Our new name embodies our adaptability and commitment to innovation across diverse fields. It's a bold commitment to the future, reflecting our desire to embrace challenges and position ourselves as pioneers in immersive experiences on an international scale.
Key Innovations and Structural Changes:

New Organizational Structure:
Shareholding Evolution:
Our key collaborators, now shareholders, strengthen their commitment to our shared vision. Our historical shareholders, renewing their trust, sign a new partnership pact, supporting our continuous growth.
New Leadership:
Vincent Bordes, co-founder and former CFO of SkyBoy, steps up as CEO of The Overlap Factory. The executive committee is further strengthened by the presence of Marie Dugas (VP Sales & Marketing) and David Coullet (CTO).

Three Strategic Axes for an Enhanced Tech Solution:
User Experience:
Our commitment to exceptional user experience is realized through constant innovations, aimed at enriching and personalizing interactions with our solutions.
Marketing Tool:
Our platform positions itself as a leading marketing tool, integrating advanced features for increased customer understanding and engagement.
Security and Compliance:
At the heart of our concerns, the security of our solutions and compliance with data protection standards are reinforced, notably through the implementation of double authentication.

Strategic Market Adaptation:
Sector Diversification:
Our presence extends beyond luxury to the cultural domain, signing significant projects that rebalance our portfolio.
Expansion to the General Public:
We initiate collaborations with popular brands, democratizing access to our immersive experiences.
Balance and Innovation Strategy:
Our commercial strategy aims for a balance between our historic luxury projects and new initiatives in the cultural sector and consumer products.

New Logo and Slogan
Symbols of our Evolution: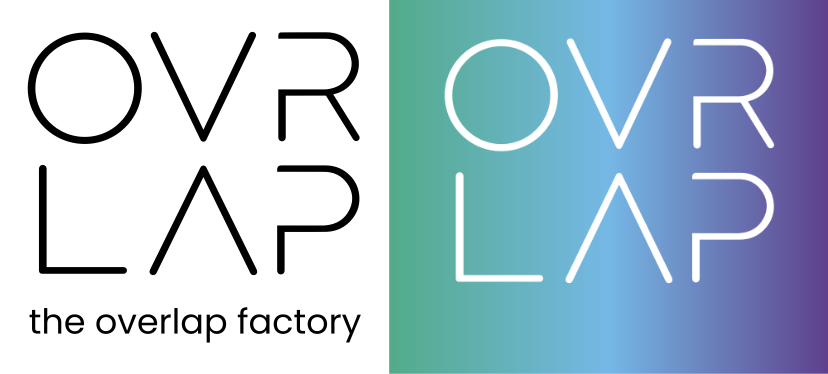 It represents the very essence of The Overlap Factory. Designed with modern elegance and visual boldness, it embodies our philosophy of blending reality, poetry, and technology. The clean lines and chosen color palette reflect our innovative approach and futuristic vision. This logo is not just a symbol of our brand but a visual representation of our ability to create immersive experiences that transcend conventional boundaries.
"Explore The Extraordinary"
Our slogan is an invitation to discover a world beyond the ordinary. It encapsulates our mission to unveil a universe of immersive experiences where creativity and technology converge to create something unique. This slogan speaks to both our clients and their consumers, promising interactions that are not only extraordinary but also deeply engaging and meaningful.
The Overlap Factory marks a determination to strengthen our position as a leader in creating unparalleled immersive experiences.
So, together, let's explore the extraordinary possibilities of tomorrow.
Vincent Bordes – CEO, The Overlap Factory